Archives Traces, the first Montreal lesbian archives were founded in 1983. As of 1986, they occupied space at the Gilford School. After the School closed, they were relocated to private premises until they finally moved to the Montreal LGBTQ+ Community Centre in 2001.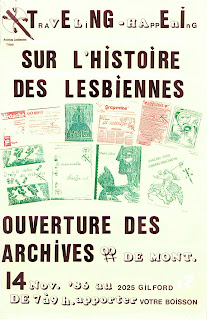 The Quebec Lesbian Archives have been incorporated as a non-profit organization since January 2017. They are, amongst other things, the custodians of the collections assembled by Archives Traces which is comprised of thousands of documents and materials chronicling the social, cultural and political lives of Montreal, Quebec and Canadian lesbians.
Over the years, activists ensured that these vast collections were not lost or dispersed. Today, QLA volunteers are compiling, processing, and expanding them in order to increase access and facilitate distribution amongst the lesbian community and those interested in its history and culture.